How Amazon dealt with Chinese knock-offs on their site. They simply sold their own brand of Chinese knock-offs under the name "Amazon Basics".

In recent years, Amazon has been flooded with low-quality Chinese knock-off products that appear at the top of almost every search results page.
No matter what you search for on Amazon these days, from fitness equipment to phone chargers, the first page of results is filled with low-quality Chinese junk reminiscent of a site like Ali Express.
Its become so common that entire successful YouTube channels are now dedicated to testing these so-called "Amazon versions" of popular items. Oftentimes, these products fail rather quickly.
So how did one of the largest and for some reason most respected companies on Earth decide to deal with the problem of Chinese knock-offs? Well, they decided to join in and have started selling their own brand of Chinese junk under the name "Amazon Basics".
These Amazon Basics items are exactly what was on the site before under hard-to-pronounce knock-off names that make no sense. The only difference is now Amazon pushes their own version. The goal here is to trick users into thinking that because the products have the Amazon name, they must have gone through some sort of quality control process or vetting.
But that couldn't be further from the truth. Tons of Amazon Basics items are filled with reviews stating how cheaply made they are, and in some cases, downright dangerous.
Take a basic USB cable. Searching on Amazon for this item will bring up their Amazon Basics version.
But a quick reading of the most recent reviews will show that many people found it to be a fire hazard due to it's extremely low quality. Some even burst into flames, with photos to show proof.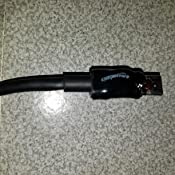 "I ordered two of these cable so I wouldn't have to carry my OEM charger and cable around. Plugged in my Pixel it charged for a couple of seconds then stopped and the USBC-phone side connector got screaming hot. This is the third (and first amazon basics) USB-C cable I have purchased off of amazon, none of them work properly with the Pixel or Note 8 , stick with OEM cables its worth paying more at Google/ Samsung to not fry your phone."
"I really want to give this product 5 stars, but I cant. I've had two of these cables for 2 years and they've never let me down once…. until last night. I woke up to the smell of smoke and found my cable like this. Nothing was plugged into it, the cable was just in the charger plug how it sits normally. I have no idea what could have caused this but I was scared that if I wasn't awake or home when this happened it could have caused far more damage."
Then there are these users who said the odor emitted from another Amazon Basics USB cable was so strong it made them sick. These are the top reviews and not cherry-picked.
"I know these are cheap but Amazon needs to change suppliers for this cable, it emits an extremely strong chemical smell. From the first time you open the box it hits you in the face and continues to smell."
"These cords emit a pretty bad chemical smell from the second you open the box. It is almost inescapable in a small apartment b/c it legit crosses rooms. I don't really feel safe with them in my house"
"This just came in the mail and was emitting an awful smell! I took a big whiff of it to confirm that was the source, and I felt a little light headed. And I work with industrial chemicals for a living which i don't even get light headed to! Not even sure about it's function because i will not be keeping it due to the smell"
So how exactly does Amazon find these Amazon Basics which are so low quality they can make people sick just from the toxic odors they emit?
It's actually quite simple since all the knock-off sellers are already on Amazon, and all their sales data is open for Amazon to inspect.
Amazon simply looks at what sellers are offering in different product categories, looks where that seller is sourcing their products, then simply duplicates the entire process under "Amazon Basics".
I suppose none of this should come as a shock. Amazon is well-known as a highly predatory corporation that treats everyone from their workers to their sellers like slaves.
So be weary when searching on Amazon and avoid their line of Chinese knock-offs known as Amazon Basics. Or better yet, don't buy anything from Amazon at all.