The strange case of a U.S. Air Force veteran shot down over Libya while flying bombing runs for a local rebel group.

In one of the more bizarre and tangled stories to come out in recent months, a U.S. Air Force veteran was shot down in Libya while apparently flying bombing missions against the Libyan National Army (LNA) .
The pilot who was later identified as Jamie Sponaugle, 31, from Florida originally told the LNA he was a Portuguese national. But later his real identity as an Air Force veteran was confirmed and reported by the Washington Post.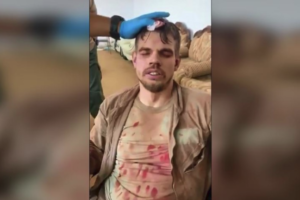 After his capture, the Crown Prince of Saudi Arabia Mohammed bin Salman apparently took a personal interest in the case, and advised his subordinates to secure the pilot's release. Sponaugle is now in Saudi Arabia undergoing medical treatment and will be meeting with U.S. officials soon.
Below is an outline of Sponaugle's incident along with some of his military history as reported by Task and Purpose.
Jamie Sponaugle, a 31-year-old mechanic who served on active duty between 2006 and 2013, was captured by the Libyan National Army after his aircraft "went down" near the country's capitol of Tripoli on May 7, several unnamed U.S. government official told the Washington Post.
Sponaugle served as an active-duty airman from November 2006 until April 2013, and he went on to serve in the Air National Guard from December 2013 to February 2017, according to the Air Force Personnel Center.
His Air Force Specialty Code was command and control battle management ops and he left the service as an E-5 staff sergeant. When he left active-duty, he was serving as an airspace technician with 6 Medical Support Squadron at MacDill Air Force Base in Tampa, Florida.
Sponaugle's military awards include the Air Force NCO Professional Military Education Ribbon, Air Force Good Conduct Medal, Combat Readiness Medal, Air Force Expeditionary Service Ribbon with Gold Border, Iraq Campaign Medal, Korean Defense Service Medal, Air Force Longevity Service Award, Meritorious Unit Award, National Defense Service Medal, and Nuclear Deterence Operations Service Medal.
He was accused by the LNA, one of the two major political factions currently locked in a civil war for control of the country, of "piloting a Mirage F1, a French-made combat jet, while conducting bombing missions against its forces in the area," according to the Washington Post.
On May 8, the day after Sponaugle's reported downing, LNA claimed it had shot down a Portuguese mercenary "flying a Mirage F1 warplane of the Tripoli-based Government of National Accord," the LNA's main political rival.
The Washington Post confirmed that video footage published by an Libyan media outlet that same day showed a bloodied Sponaugle receiving medical treatment and identifying himself as a 29-year-old Portuguese national named "Jimmy Rees."
"It's not clear whether Sponaugle violated U.S. law by working for or fighting with any party in Libya," the Washington Post notes. "Many countries including the United States employ foreign security contractors, who can play a variety of roles and are sometimes armed."
This case seems to suggest there is a network of former U.S. servicemen working as mercenaries around the globe. But the question remains whether the American government is aware and possibly supporting these mercenaries.
The case of this American pilot in Libya seems similar to another bizarre incident. It's the case of the North Korean embassy being attacked and robbed in Spain earlier this year. After the attack, a former U.S. Marine was arrested and set to appear in a Los Angeles court for his role in the attack. The former Marine Christopher Ahn was arrested by Spanish law enforcement and accused of working with a terrorist group that is looking to overthrow the current regime in North Korea called the Cheollima Civil Defense.
What in the world is a former Marine doing working with a North Korean rebel group and conducting an armed raid of an embassy in Spain? Is this another mercenary with ties to the U.S. military?
Finally, are these just lone-wolves or are they part of a network of former U.S. military people fighting secret wars around the globe?
Note: If you enjoyed this article, please make sure to share it! Also, make sure to join me on Minds.com, a free-speech focused social media platform.