The Kanye, Owens and Trump dust up – Kanye still loves Trump and West most likely had to distance himself from Owens' clothing line due his own exclusive clothing contracts.

Breaking news: Kanye now hates Donald Trump! Well, at least that was the headline the mainstream media went with today, and even some conservative leaning outlets. But the truth of course is much different.
It started with a Tweet from West where he stated he was done with politics and had been "used". This was enough for the media to decide he must be talking about Trump.
The website TMZ reported that Kayne contacted them directly to make it clear his statements had nothing to do with Trump.
From the TMZ website:
4:15 PM PT — Kanye contacted us to make it clear he did not mention Donald Trump in his tweets, and he's getting out of politics altogether.
As for being "used" … he says he was specifically referencing Blexit, and that's it.
So there you have it, Kanye has not changed his stance on Trump, at least not for now. And to be clear, he was never a blind follower of every single Trump policy and has said as much publicly. He is simply a free thinker who admires Trump as a businessman and as a leader and also supports American businesses.
So what exactly happened to cause the rift between West and Owens?
Although it is not known completely as of yet, it appears as though Candace Owens overstated West's involvement in her "Blexit" brand of clothing. Blexit is nod to the U.K. Brexit movement, but instead references black Americans leaving the the Democratic party, a movement that Owens has heavily promoted.
It is my opinion that Owens and West probably did speak briefly about the clothing designs and he admitted he put her in contact with one of his designers. However, he was not directly involved with the movement or brand as Owens suggested when showing the merchandise as well as in a Tweet.
She has since released a Tweet giving her side of the story and blames the media for most of the confusion.
#BLEXIT is about the beautiful stories of so many black people who have awakened themselves to the possibilities of our future, as Americans.

The press is trying to use Kanye's name to create drama and further divisiveness which is WRONG.

Here is statement of clarity from me: pic.twitter.com/PJSdM2PRFi

— Candace Owens (@RealCandaceO) October 29, 2018
Now, I'm not blaming Owens for this misunderstanding, at least not yet. Owens has stated she is a big fan of Kanye and it's possible she was just over-excited about collaborating with West, even if only slightly, and it caused her to make a misleading statement.
---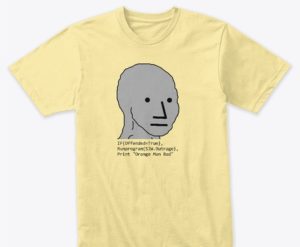 ---
It's also very possible West faced legal pressure to put out that statement. West has exclusive contracts with other clothing brands such as Adidas, I'm sure those contracts state he can't just go and get involved with random clothing lines without facing legal and financial repercussions. So due to contracts that West has with other clothing companies it is very likely he had no choice but to deny any suggestions that he was directly involved with the Blexit clothing brand.
So in the end, despite the headlines, not much has changed in Trump-land. Kayne still loves Trump and Candace Owens is still out there promoting her brand.
Note: If you enjoyed this article, please make sure to share it. Also, we are now advertising-free! To support our site and content visit our shop full of exclusive pro-Trump gear. Click here to visit our store.
You can also support our content directly via the Bitcoin address below. Any support is very much appreciated.
12ETzNSu9TAmygQZCfWMxyGedhU4rw67x9
---