Facebook bans Infowars, but they promote the Instagram account of rapper 6ix9ine, who admitted to filming a 13 year old performing oral sex on his friend and then posting the video online.
Update: Google contacted this site and stated this article violates their terms of service and they would no longer serve Google Adwords on the page. No other details were given as to the specific violation.
I think Facebook is going to need some clarification on the way they enforce their terms of service.
As we all know by now, Facebook along with most other popular social media platforms banned Infowars and Alex Jones. Not only were they banned, in the case of YouTube, they removed all of their past content. So most people can't even search to see if the alleged violations against Jones are even accurate.
However, Facebook seems to have no trouble with people on their platform filming 13 year old girls performing oral sex on a friend of his and then posting those videos on the internet.
That's exactly what rapper 6ix9nine (real name David Hernandez) did. He admitted in court that he indeed did film the sex act being performed. He also admitted to making pelvic thrusting motions behind the naked 13 year old girl while he was filming. All of this can clearly be seen in the video.
In a separate video, the naked 13 year old girl is seen sitting on Hernandez's lap while another man gropes her breasts. According to court documents, Hernandez was 18 years old at the time.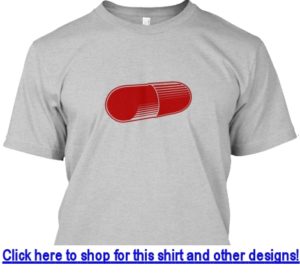 So one needs to ask, why is someone who admitted to filming a 13 year old girl in a sex act being promoted by Instagram? Facebook owns Instagram, and when someone searches for rappers, the account of 6ix9ine can up as a "suggestion".
So not only is Hernandez not banned from the platform after distributing videos of naked 13 year old girls, he is actually promoted on the platform.
6ix9ine also has an active channel on YouTube, his latest video posted has over 125 million views.
It would seem is this bizarre Orwellian world, discussing alternative narratives for national news events is grounds for internet-wide banning by social media companies. However, filming a 13 year old girl performing oral sex and posting it online is grounds to have your Instagram and YouTube accounts promoted by those same companies.
Note: If you enjoyed this article, please make sure to share it. Also, visit our store where we feature different political and meme style T-shirt designs every week. Click here to visit our store.